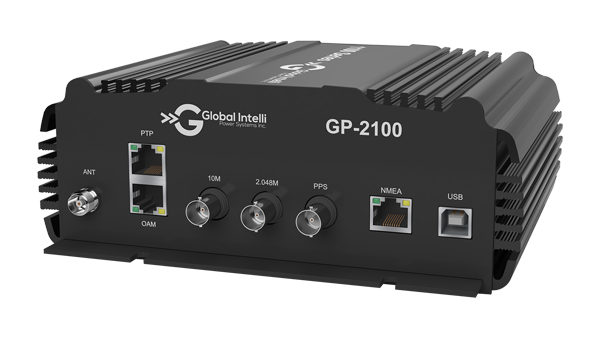 Overview
The GP-2100, Pole Mount PRC and IEEE-1588v2 PTP Grandmaster is a ruggedized GNSS (GPS/GLONASS) synchronized, ITU-T G.811 compliant Primary Reference and IEEE-1588v2 PTP Grandmaster Clock that designed to be installed 2G, 3G and LTE service providers in harsh, un-protected, outdoor environments, such as to mobile cell towers, to provide a highly precise time and frequency reference to provide ITU-T G.811 compliant primary reference frequency output and a time of day reference.
It may be also used by railways and metro signaling infrastructure, airports and air-traffic control facilities, solar farms, wind-farms, electric sub-stations, power distribution infrastructure, off-shore oil and gas rigs and naval vessels that are required to operate in complete isolation due to the very nature of their application, geographical location, or due to security reasons.
The GP-2100 is equipped with a highly accurate, low-noise OCXO to provide a high stability, ITU-T G.812, Type II, III compliant holdover clock with better than 12µs accuracy over a 24-hour (5 milliseconds per year) period in the event of unavailability of the GNSS (GPS/GLONASS) signal, or GNSS (GPS/GLONASS) antenna failure, or a temporary loss of reception occurring due to stormy weather conditions or solar flares or without any external reference.
GP-2100 establishes a highly accurate phase-synchronized frequency and time base by synchronizing to the GNSS (GPS/GLONASS) satellites' atomic clocks to distribute synchronized time over packet based networks including Ethernet, Carrier Ethernet, IP and IP/MPLS Networks.
The GP-2100 provides a wide range of GNSS (GPS/GLONASS) referenced frequency and time sources (outputs) that include 2.048MHz, 10MHz, 1PPS as well as an NMEA, 1588v2 PTP and an NTPv4 time reference. Features such as maintaining a distinctly separate IP address for system management and control, password based access, SSH as well as MD5 authentication ensures operational reliability and security. Additional features include remote login and remote firmware upgrade (file transfer) capabilities. GP-2100 includes complete SNMP monitoring as well as support for enterprise directory services for user authentication, internal and external logging and monitoring of alarm and error messages through Syslog ensures a high level of system manageability. Other features includes support concurrent IPv4/IPv6 support for future network upgradation.
IEEE-1588v2
IEEE-1588v2 PTP Grandmaster
ITU-T G.811 compliant
2.048MHz and 10MHz frequency outputs
Rugged Construction
IP65 Polycarbonate, corrosion resistant outdoor enclosure
Standard PTP Profiles
Default, Telecom, Power, SMPTE, Telecom2 and Power2
NTP requests
Supports up to 3000 NTP requests per second
Supported protocols
IPv4, Ipv6, SSH, FTP, SYSLOG, SNMPv2 and TELNET
---