Overview
GS-320-DIN is an Ethernet A/B protection switch that provides 1+1 automatic ethernet network protection between primary and standby Ethernet/IP/MPLS networks.
It monitors the active and standby links in real-time and initiates switching based on user configurable parameters. GS-320-DIN also allows manual switching of networks through TCP/IP links remotely as well as locally through its USB serial console. Line characteristics and link states can be viewed locally and remotely to monitor network status.
The GS-320-DIN never becomes a point of failure even in power down condition, to ensure 99.99% up-time.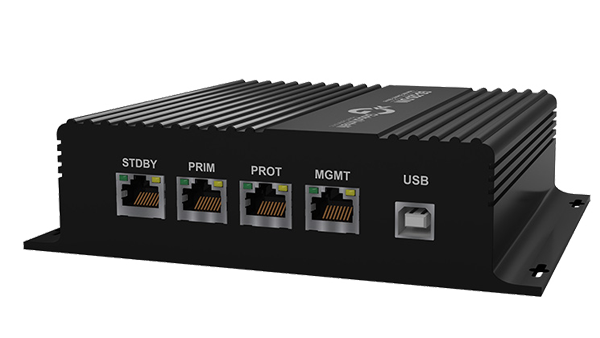 Features
Compact Design
Small physical foot print
DIN Rail Mountable
DIN rail mounting bracket for versatile deployment.
Fail-Safe
Never becomes a point of failure (even when powered-down)
Fully User Configurable
User configurable link switching parameters
Real-time Clock with NTP Client
Real-time logging maintains a history of all events
Password Controlled Access
Maintain logs of access to the system
Local / Remote Access
Local Serial Port & Remote access through SSH / TELNET
Script Initiated Switching
Automatically initiates switching upon the receipt of scripted trap