GP-4100
1+1 GPS/GNSS Reciever Primary Reference Clock
IEEE-1588v2 PTP Grandmaster
with integrated NTP Server
KEY FEATURES
DATA SHEET
Overview
GP-4100 is a high-performance, high-reliability GPS Primary Reference Clock and IEEE-1588v2 PTP Grandmaster that provides ITU-T G.811 Primary Synchronization Frequency References which are locked to a user selected Satellite source. The GP-4100 Satellite Receiver also has an integrated, high bandwidth NTP Server engine that is capable of handling up to 5000 NTP requests per second. Multiple IRIG-B Outputs are also provided to synchronize local clock (time-of-day) display units as well as RTUs to a central timing source with nanosecond accuracy.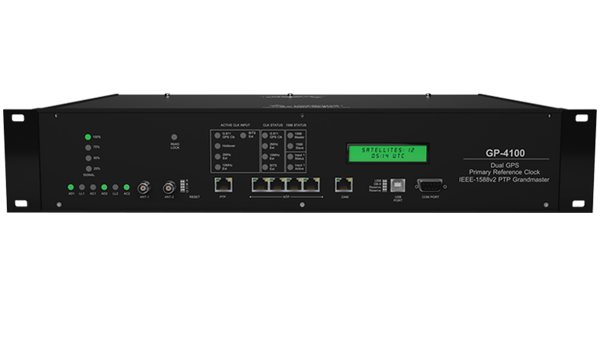 The GP-4100, Primary Reference (PRC) Clock is specifically designed for frequency synchronization of 2G, 3G, HetNet and LTE mobile telecommunications networks as well as backhaul wire-line SDH / SONET and Synchronous Ethernet networks. It may be also used by Railways, Airports (and air-traffic control), Power generation and distribution companies and other Utility companies who not only require highly precise G.811 frequency synchronization locked to a GPS Reference but who also need to provide an accurate time-of-day reference in their networks.
The GP-4100 incorporates up to dual (1+1 redundant) GPS receiver engines and dual (1+1 redundant) power supply options for added reliability which are always locked to a user selected satellite (GPS) reference to provide multiple G.811 / Stratum 1 quality frequency and time-of-day (PTP, NTP and IRIG-B) outputs. The GP-4100 is also equipped highly accurate, low-noise OCXO / Rubidium oscillator which provides a high stability holdover clock that is typical of a Network SSU in the event of the GPS signal, or its antenna failure.
Features
IEEE-1588v2 PTP
PTP Grandmaster with integrated NTP Server
ITU-T G.811 compliant
2.048MHz and 10MHz frequency outputs
Phase Locked Frequency Outputs
1 / 2.048 / 5 / 10MHz output
Standard PTP Profiles
Default, Telecom, Power, SMPTE, Telecom2 and Power2
OCXO Holdover
Accurate timekeeping in holdover
1 + 1 GPS/GNSS Reciever
Fully redundant reciever and antenna
High performance NTP server
Supports up to 3000 NTP requests per second
Supported Protocols
IPv4, IPv6, SSH, FTP, SYSLOG, SNMPv2 and TELNET