Overview
Our IEC-61850 GOOSE over IP / MPLS Teleprotection Equipment is a compact, 19-inch rack mountable equipment that is designed to serve the IEC-61850 compliant "Digital Substations" to provide "Distance Protection" over IP / MPLS links using IEC-61850 GOOSE messages instead of "binary" commands.
IEC-61850 GOOSE over IP / MPLS Teleprotection Equipment incorporates the same level of "reliability" and "dependability" that the users have come to expect of the C37.94 based communication interface. Additionally, our IP / MPLS Teleprotection Equipment provides un-paralleled security, speed as well as all the advantages of an IEC-61850 GOOSE based system operating in a "Digital Sub-station" environment.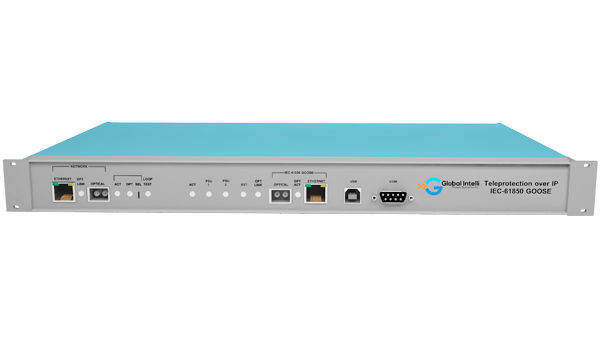 Our GOOSE over IP Teleprotection Equipment is an extremely fast and reliable "Distance Protection" device that offers up to 4, 2-way independent command channels which can be operated severally, or collectively over an IP / MPLS / Ethernet network with an extremely high degree of reliability and security. Additional features such as "Encryption" and "Firewall" have been incorporated to guard against any possibility of "cyber-attacks", making the equipment a best-in-class device.
Other Teleprotection transport media options:
Features
IEC 61850 GOOSE
Input and IP Output
Fast Command Propagation
< 2ms command transfer time
Rugged Construction
Sub-station grade aluminum construction
Dual Protection
Option of Dual Protection Scheme
1U High
1U 19" Rack Mount
Electrical / Optical
Electrical (10/100BaseT) / Optical (100BaseFX) Distance Protection Interface